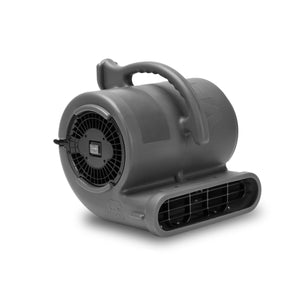 B-Air 1/2 HP Vent VP-50 Dyno Blower Fan
Sale price Price $199.00 Regular price
Introducing the Vent, the next generation of centrifugal Dyno fan! Half the size yet more powerful than its predecessors.

Developed  to be more powerful yet smaller than any other air mover in its class.  AT 2820 CFM the Vent VP-50's ½ HP motor is powerful while only drawing a minimal 4.5 amps.

The Vent's multipurpose design allows it to be used at 3 different angles (horizontally, 45° and 90°) to allow air flow in the desired direction. The housing is constructed of an extremely durable rotationally molded plastic. The powerful ½ HP motor in the VP-50 is completely enclosed to prevent moisture from entering and damaging the motor's internal components.

Due to its lightweight and compact size, the Vent is easy to carry and occupies less space when stored. With interlocking contact points at air intake grills and exhaust ports, the Vent line of Dyno fans can safely and securely stack up to 4 units high. The built in sturdy handles on the Vent Dyno fan can be used to mount the unit on a stowing wall for maximum efficient storing.
SPECIFICATIONS
Motor 1/2 HP
Amps L 2.8A / H 4.5A
Speeds 2
CFM:  2820
Certification: C-ETL-US
Stackable: 4 units
Daisy Chain: No
Voltage 115V
Cycle 60 Hz
Max Static Pressure 2.5″
Weight Net/Gr 25/28 Lbs
Size (LxWxH) 22.5"x 20"x 13"
Wheel Speed (RPM) L 1520 / H 1700
Attached Cord 25 FT 16 AWG
Available Colors Grey
Warranty 2 years on parts & labor, 5 years on housing